Faith & Justice Groups at Your Church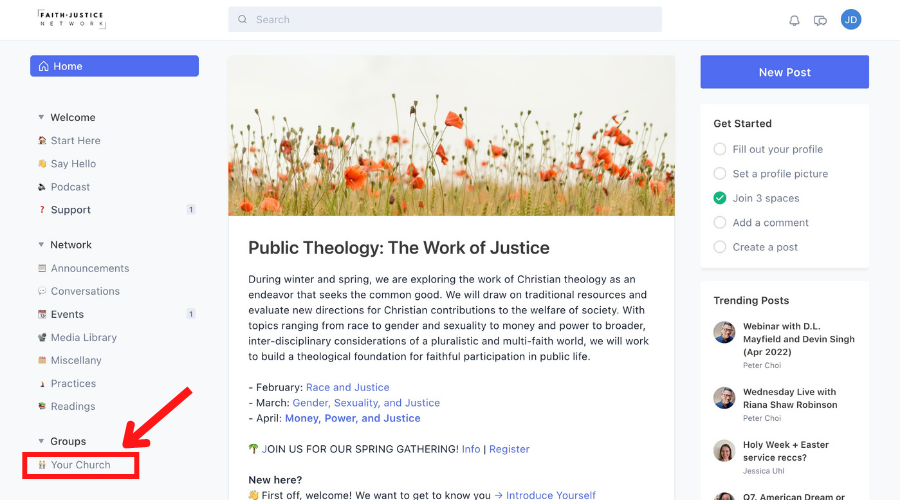 We welcome churches and ministries to use the F+J curriculum in your communities. Participate in our webinars, use our videos and readings, interact with the broader community, then process and discuss in your community. We provide the content, you bring contextualized leadership.
Here are some of the benefits:
Access to all of the great F+J content (including live events and media library of past events)
Designated space(s) for your community on the F+J platform
Unique signup/paywall link to funnel people into your community space
Connection to other churches and ministries
Invitation to Partnership. We view working with churches as an integral part of our vision to foster Christian communities of faith and justice. In the spirit of partnership and collaboration, we're open to a pricing plan for your community that prioritizes equitable access to educational resources for everyone and a variety of pathways to get started.
Option 1: Consider a Pilot Group. Regardless of the size of your church, a good first step may be to gather an exploratory group made up of key leaders and members from your community, ordinarily between 6-8 people, at a group rate of $79/mo. Experience the curriculum for yourself to discern how best to engage your broader community.
Option 2: Use the F+J Curriculum as Your Primary Spiritual Formation Curriculum. For community-wide involvement, here is our *suggested* pricing structure for churches by weekly attendance size:
1-50 ($79/mo)
51-100 ($149/mo)
101-250 ($249/mo)
251-500 ($349/mo)
501-1000 ($499/mo)
1000+ ($599/mo+)
Thank you for your interest! To schedule a consultation, please use
this form
.