This year has looked different than anyone could have imagined, and has changed what "normal" looks like for the Newbigin Fellowship program. For the first time ever, we have gone fully virtual — and though the mechanism has shifted a bit, the goal of the Fellowship remains the same: equipping people to embody the way of Jesus, the call to peace, and the work of justice.
A completely virtual program has enabled us to welcome 135 participants and cohort leaders from around the world, with Fellows joining from seven countries and sixteen U.S. states. Each of the tracks (laity, pastoral/clergy, and academic) will spend nine months diving deeper into faith, peace, and justice through readings, monthly webinars, fireside chats, online discussion forums, and small group meetings. And a big thank you to our generous donors; with your support, we were able to provide financial aid to 35 participants this year.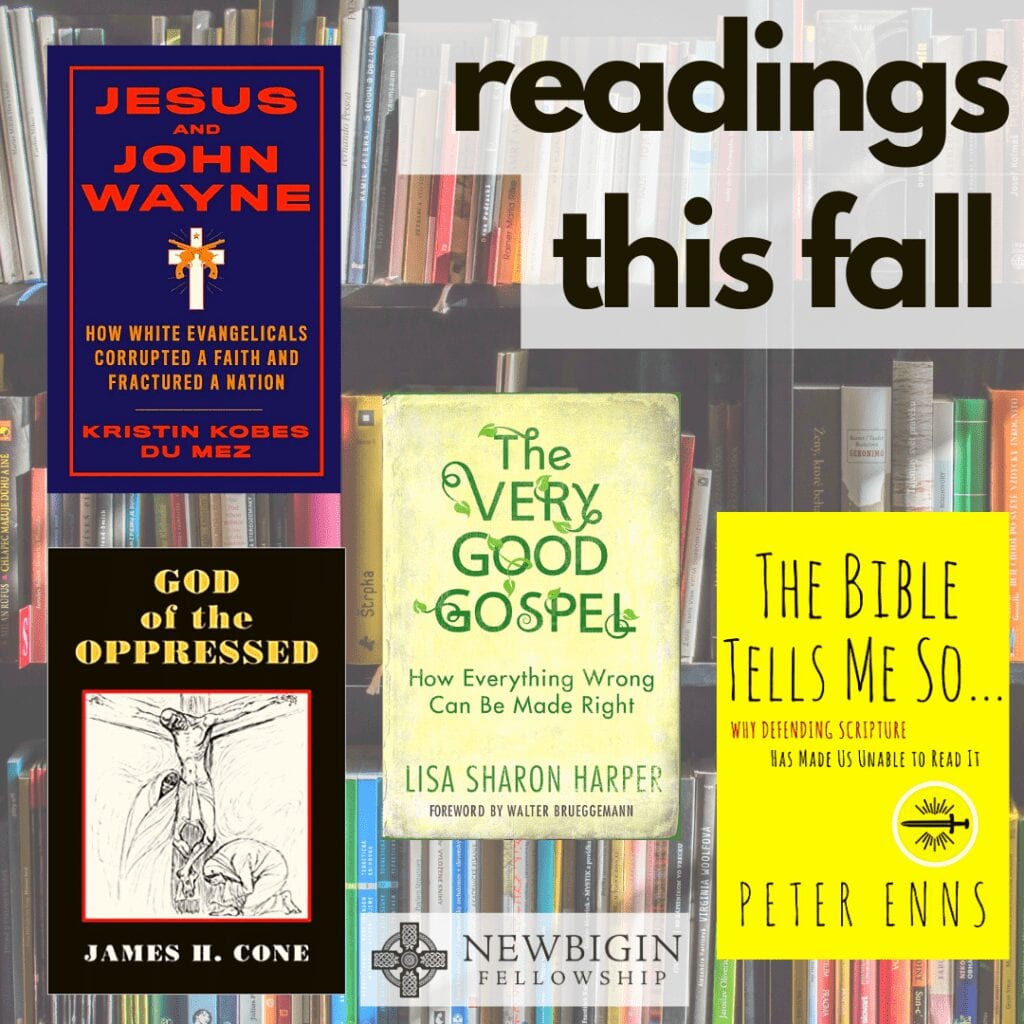 This fall, the focus has been on Faith and Spiritual Theology. Each unit within this category has gone deeper into an aspect of the journey of faith: the long journey, where Fellows spent time reflecting on who they have been, who they are today, and who they might become tomorrow; the inward journey, where they learned about a variety of tools to help navigate the inward journey (including contemplative prayer, the Enneagram, and the Bible); and the outward journey, where Fellows considered that following after God and the Holy Spirit will always lead them out into the world, seeking to embody the very good gospel–which is not just for ourselves or our small corner of the world, but for all the world.
Who better to talk about the impact and experience of the program than the Fellows themselves? We asked a few folks to reflect on their time in the program so far and are honored to be able to share their stories below. Be sure to follow us on social media (@newbiginhouse) to stay up to date with the program!
"What has the Fellows experience been like for you?"
"In a word, it has been wonderful.
The Fellows experience has been a place of discovery for me. A curious place to discover once again what I already know and a place to discover more of what I have to learn. It's been a peaceful place of loving exchange between people who are seeking to understand God more fully; a thoughtful place filled with people who seem unafraid to try to answer the different questions we have as a group. It's been a safe place where I can be myself as I attempt to unwrap and flesh out the deep thoughts I have about Christian theology and spirituality. It's been a challenging place where I am in contact with people from various faith traditions and backgrounds whose outlook sometimes greatly differs from my own, but it stretches me nevertheless.
For me personally, I feel like I have been on a journey with fellow sojourners; people coming from spaces where it was discouraged to think critically about one's faith, the Bible, church tradition, etc. The Fellows experience has felt like a community of love where I have discovered that I am not alone on this journey. I don't have to feel isolated as I try to work through my many questions and concerns, but I am invited to fall into the arms of a family of friends who will help me as I navigate these waters. So far, the Fellows experience has greatly enriched my life as I reflect on both the inward and outward journey of faith, and I look forward to the months ahead as the traveling continues."
–Matthew from Berlin, Germany, participant in the Laity Track
"The fellowship experience has been great for me so far. It's a bit of a juggle to try and manage the academic track with my responsibilities and graduate program in Taiwan, but I am so glad to be reading and engaging with discussions, meeting fellow people who are along similar journeys as me, and asking similar questions about their faith, context, and calls to serve the Church. I have already shared about the program with many of my friends who are interested to hear what I am reading and learning, and recommending that they check it out in the future!"
–SueAnn from Taipei City, Taiwan, participant in the Academic Track
"As a community chaplain, pastor and peacebuilder in an interface area of Belfast in Northern Ireland surrounded by peace walls, I was looking for a safe, supportive, reflective place of encouragement, authenticity, meaning, purpose and hope, to take stock, to deepen, to grow, to explore to question to connect, to replenish and restore. The Fellowship has offered that and more. I have found a welcome, a solidarity, a shared identity, fellow pilgrims and opportunities to look up, look in, look around and look forward. My peacebuilding, peace church planting work in Ireland has been informed, enriched and energised by my participation in the Fellows program this year. For that I am grateful."
–Gordon from Belfast, Ireland, participant in the Pastoral Track
"The Newbigin Fellowship has been a wonderful experience for me personally. At first, I was wary of the distance learning protocols but now have learned to enjoy the practicality of it all. The reading material and discussion forums challenge you to grow your thought process on many aspects of religion. It is not your childhood catechism.
In addition, the Laity track is perfect for someone like myself who wants to take a deeper dive into understanding the "why, what's and when's" of Christian theology while perfecting my own journey here on Earth as I attempt to see the face of God in everyone I encounter."
–Steve from San Jose, CA, participant in the Laity Track
"I come from a Roman Catholic background and am currently a practicing Episcopalian. I live in a rural town in upstate New York. I love rural living, but I have been frustrated by the conservative values of the diocese and the community in which I live (including protests against Black Lives Matter, denial of marriage equality from our bishop, and exclusion of prayers for Black folks at our Sunday services). And in the midst of it all, what is God's will for me in this world, in this time and place?
The Newbigin Fellowship has given me the means with which to explore a lot of hard questions. The Fellows come from a variety of faith backgrounds, yet we seem to be on a similar journey. The cohorts provide a safe environment in which to discuss and explore the readings, ask questions, and find support in our new relationships. The books have been refreshing, inclusive and broad-minded. I tell my friends, "You can't believe what I'm reading! Check this out!" I am learning new practices and new faith disciplines. The Fellowship shines a light on my path, gives me hope and I believe will help me to discern God's call in my life."
–Linda from Greenville, NY, participant in the Laity Track
What's coming next?
In the winter, we will dive into Peace and Public Theology, where Fellows will spend time exploring Christianity as a public faith that prioritizes the common good — drawing on history, politics, science, and religion — to understand and address common obstacles to human flourishing. The final theme in the spring will be Justice and Missional Theology, where we will reimagine the work of Christian communities in a changing culture, focusing on the call to embrace the breathtaking diversity of lived experiences across the world – and in our local contexts – by bearing witness to a gospel of grace and justice.